Véronique Gillet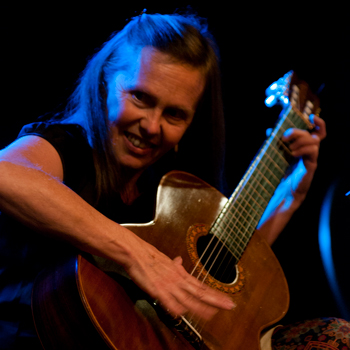 For over half a century, guitar has been part of Véronique Gillet's life. She is only seven when this instrument crosses her path, enters her life, to never leave it again. After studying in Paris with the master Alberto Ponce (1935-2019), she started composing in a self-taught way and travelled to Brazil to perfect writing and develop her approach to guitar with Egberto Gismonti.
While using the writing codes of classical music, Véronique feeds on the many encounters that marked her atypical career with musicians from the Mediterranean Basin, Central Europe or Latin America, among others.
After a concert by the Zemlinsky Quartet around Leos Janacek at the Stavelot Festival (Belgium) in 2014 she decided to write for these four vigorous and impassioned musicians…
She composes "Attic Suite" and "Ombres Chinoises" specifically for the Prague Quartet, while "Requiem for a Dreamer" and "La Dernière Fable de Vijaya" were originally written for solo guitar.
With this chamber music setting "par excellence", Véronique reconnects with her roots, a kind of return to her hometown the 'Cité Ardente' (Liège) for a music that is just as much!
Quatuors pour le monde d'hier, a unique "east-west" encounter for a music of timelessness far from the beaten track.